Homepage
Edit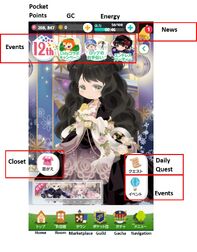 The home page is the main interface from which you can navigate the rest of the site. You must go to the homepage to claim daily prizes.
Special events are shown in bubbles at the top of the screen
News is shown by the golden bell, such as completing daily quests and new gacha
All events, including new gacha, are shown by the air baloon
You can also access the closet, your room, the marketplace, you guild, the gacha list, and the navigation panel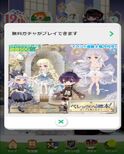 Selecting the golen bell opens a list of news, and an 'advertisement' for new gacha and events.
News translations:
お友達申請がきています

Your friend request has come
新しいクエストが発生しています

A new quest has occurred (A new daily quest is available)
エラーが発生しました。再度お試しください。トップへ戻る An error has occurred. Please try again. Back To Top