The Dress Up Gacha, or gacha for short, is a collection of limited edition items. The term, gacha, refers to vending machines which dispense capsule toys; it derives from the Japanese onomatopoeia, gasha, the sound of a crank on a toy vending machine and pon, the sound of the toy capsule dropping.[1] There is a possibility that multiple items may be drawn from gachas.
Goodsel Gacha
Edit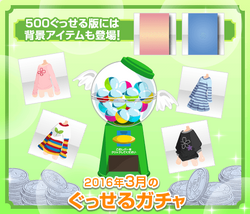 Goodsel Gacha changes its items monthly, however items from previous months are rotated after a short period of time.


| Types | Cost | Number of Items | Items Available |
| --- | --- | --- | --- |
| 250GS | 250GS | 1 | Mainly Accessories |
| 500GS | 500GS | 1 | Clothes, BGs |
GC Gacha contains limited items that can be played using GC and usually last for 27-28 days. Alternatively, a gacha ticket, purchased from a ticket pack via the Dress Up Shop, can be used to play Little Star Gachas. For more information on how to obtain gacha tickets, please refer to the Ticket Pack section.
Types of GC ItemsEdit
GC Gachas dispense Little Star items, Twin Star items and Gacha Bonus items.
| | Types | Description |
| --- | --- | --- |
| | Little Star | Can be purchased with GC or Gacha Tickets |
| | Twin Star | Can only be purchased with GC |
| 10+2 | Gacha Bonus | Can only be obtained from 10+2 gacha machine |
Types of GachaEdit
| | Types | Cost | Number of Items | Items Available |
| --- | --- | --- | --- | --- |
| | Little Star | 150GC | 1 | |
| | Twin Star | 350GC | 1 | |
| | 5+ Little Star | 750GC | 5+1 | |
| | 5+ Twin Star | 1,750GC | 5+1 | |
| | 10+2 | 3,500GC | 10+2 | |
GC Gacha Campaigns
Edit
Each GC Gacha has its own campaign event where players must meet certain requirements to obtain campaign items. Current gacha campaigns are displayed at the side of the Gacha page.
Note: Gacha campaigns only are only valid for Twin Star and 10+2 gachas (even if the gacha includes Little Star gacha). Please be sure to collect your rewards before the campaign expires.
Little Star Gacha
Edit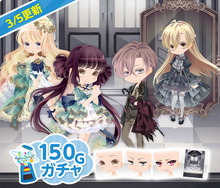 Little Star Gacha costs 150GC and contains recoloured items from Twin Star GC Gacha which have recently ended. Items in the Little Star Gacha are typically recoloured to green or blue.
The Little Star Gacha is updated every 2 weeks. During each update, items from the older 2 gachas are replaced with items from 2 recent gachas.
Collaboration Gacha
Edit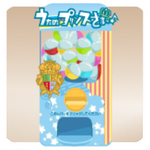 Collaboration Gacha costs 300GC and contain items related to the collaborator. There are currently no active collaboration gachas. Past collaborators included Vocaloid, Disney, Hakuōki, Kuroko no Basket, Uta no☆Prince-sama♪, and Cardcaptor Sakura.







Selpit Gacha
Edit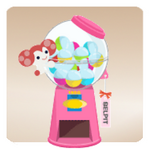 Selpit Gacha are no longer available. Previously, they cost 150GC and contained Selpit clothes and items, as well as accessories for your Selfy. For more information on how to dress your Selpit, please refer to the Selpit Closet section.





How to use Gachas
Edit
Select the gacha you'd like to use
This will open a new window. Select the gacha button, or the fast play button, to spin the gacha.
You will receive a random item! You will aslo have the option to spin again.
In 5+1 or 10+2 gacha, you will receive a random selection of 6 or 12 items, respectively.
References
Edit