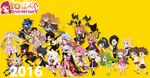 @games celebrates its 10th anniversary this year on August 1st, in honor of the 'Selfy' avatar design, developed by GCREST.
The first Selfy avatar designs were release on August 1st, 2006, by illustrator Takehito Harada. There are currently more than 12 million @games users, with more than 90,000 clothes and furniture items and 50 collaboration titles released today. The official website to celebrate its anniversary can be found here.
Projects
Edit
As a thank you to all users, there are ten projects to represent the number of years @games has been in operation on the official website. There are currently five projects on displayed.
Projects
Description

An approx. 100 page artbook, "Selfy Chronicle", detailing the production of the Selfy design from 2006-2016, including the history, original and previous designs, and an insight of the design process.

A special mascot illustration to personify the 10th anniversary is also included, and will be converted into obtainable items on @games at a later date.

Publisher: Corporation KADOKAWA ASCII Media Works

Moena Cafe x Selfy

A collaborative project with Moena Cafe, showcasing several commemorative merchandise and menu items, and bonus items. These include:

the pre-release of the "Selfy Chronicle" artbook;
Limited Items Set A: set of 24 stickers, 1x redeemable @games face item, one original muffler towel;
Limited Items Set B: 5x redeemable @games items, one original postcard;
original goods: tote bag, leather pencil case, acrylic keychains, commemorative postcards; and

free gifts!

Duration: March 18, 2016 - April 4, 2016

Twitter Icons & Wallpapers

Downloadable Twitter icons, PC wallpapers and smartphone wallpapers are available to commemorate the 10 years. More updates to come!

Commemoration Party
A special fan meetup has been planned on August 6th, 2016 at the Shinagawa Intercity Hall in Tokyo, Japan. Dates and location have not been confirmed.
pixiv x Selfy

A collaborative project with pixiv, challenging users to a design competition where the winning illustration will be transformed into @games items and receive prize money. All are welcome, regardless of your art skill! (Only avail. to users with a Japanese bank account and domestic address)

Terms and guidelines are available here (Japanese).

Submission Date: March 29, 2016 - May 10, 2016

Selfy Coordination Gallery

A gallery of user Selfy Coordinations handppicked by staff. Users can submit coordinations via Twitter using the hashtags, #真剣セルコデ1日一本勝負, #アトゲ, #ポケラン and #セルフィコーデ, with a daily chance to win three Gorgeous Gacha Tickets for "Best Coordination" in each category.

Submission Date: May 2, 2016 - May 10, 2016

-
Coming Soon!
-
-
Coming Soon!
-
-
Coming Soon!
-
-
Coming Soon!
-
Selfy Chronicle
Edit
Moena x Selfy
Edit
Twitter Icons & Wallpapers
Edit
Commemoration Party
Edit
pixiv x Selfy
Edit